Profits and Prosperity: Sharing the Wealth with Your People and the Community
Once upon a time in the early 1960s, a well-known economist from the University of Chicago declared that a business' sole social responsibility was to increase profits for its shareholders[1]. While it is true that a business does need to generate profits if it is to be financially sustainable and fulfill its financial obligations to financial backers, it is also true that businesses which fail to demonstrate any kind of corporate social responsibility will eventually jeopardize their social capital, along with their financial and organizational sustainability[2]. Choosing to use some of your profits to improve the well-being of your employees or contract workers and to strengthen your community and local economy will certainly boost your social capital (and perhaps your financial capital), but more importantly sharing the prosperity with those who indirectly and directly support your business is the right thing to do.
As a socially responsible microentrepreneur, "profits at any cost" is not likely to be your motto. Rather, you might be more inclined to wonder at times whether it is possible to run a business that is not only environmentally and socially responsible but also financially sustainable enough to both generate profits and share the prosperity with your people and local community in the medium and long run. The answer to the above question is "Yes, it's possible." This week we'll explore some ways to share the wealth without breaking the bank or jeopardizing long term financial sustainability.
Sharing the Prosperity and the Faces of Generosity
As I point out in Small Business, Big Change: A Microentrepreneur's Guide to Social Responsibility, a vibrant, sustainable business grows it profits by (1) providing useful, high quality goods and services that have a viable market (value) and (2) treading gently on the earth and making a positive contribution to the lives of its employees and to its local community[3]. What does giving back to your employees and the community look like? It might look like investing in your employees' well-being and professional development by providing your employees a living wage and other benefits, as Saul Brown does for his employees at Saul Good Gifts Co[4]. Saul Good Gifts also partners with local suppliers and social enterprises, thereby providing revenue generating opportunities for other businesses. Joe Staiano of Meaningful Trips contributes a percentage of his net profits both to NGOs located in the countries where he leads socially responsible travel tours and to programs back home in the U.S.A. that alleviate poverty and hunger[5]. If you are a solopreneur like Kate Sutherland, sharing the wealth might look like inviting others in your network to collaborate on projects that generate wealth while also strengthening local communities[6]. Other ways of sharing the prosperity might include contributing to a community foundation grant[7] or reaching out to and working with historically underused businesses[8].
You may not be able to take on some of these "big ticket" S-R practices right away—especially if you're just getting started with your business or your S-R transformation—but by setting small, achievable goals and working within your means, you are setting the stage for future success, both in terms of achieving longer term S-R goals and building the long term financial sustainability of your business.
If you have identified several strategies that you would like to implement but you are unable to decide on just one strategy, here is a suggestion: Opt for a small, feasible strategy that will most benefit those individuals who play the biggest role in helping you to keep your business running smoothly. (Think of this as the business version of "charity begins at home.")
Check the Math Twice and Ask Before You Leap
Before deciding to implement any wealth sharing S-R strategies, it is critically important to evaluate your resources and determine whether you are in a good position to adopt any strategies that involve making—and keeping—long term financial commitments to others, whether that be in the form of regular donations to an organization, setting up a profit sharing arrangement with employees, or increasing your employees' salaries. If you have investors, business partners, or you have business loans from your bank, be sure to talk them and get their approval and input before you implement your wealth-sharing activities. Make the time to do a cost-benefit analysis and a detailed analysis of your cash flow, revenues and projections and then set up an appointment with these stakeholders to talk about your vision and strategy for sharing the wealth over the years.
But None of the Above Strategies Apply to Me…
Throughout this post, I've offered both some general suggestions for indirectly boosting prosperity and specific examples of how various microentrepreneurs share the wealth generated by their businesses. However, those strategies may not work for some of the microentrepreneurs reading this blog. Ultimately the S-R strategies that will work best for you are those that are also tailored to your situation; that is where you're starting from and what resources are available to you. Here are a few more suggestions for sharing the wealth with your people and your community and boosting prosperity for everyone.
Within your business:
Celebrate special occasions and milestones; treat your employees to a nice meal.
Check to see if it is possible to get extended health/dental benefits for microbusinesses through local business associations.
Give employees paid time off to participate in volunteer and civic engagement activities that resonate with employees.
Invest in your employees' professional development; set up a fund to cover workshops and training fees
If you are a solopreneur:
If you are not able to take on a new project, refer the client to colleagues in your business network
Reach out to colleagues and competitors to collaborate on wealth generating projects, particularly if the projects help to strengthen the community or boost the local economy
If money is tight, commit to making a one-time cash or in-kind donation to a local non-profit organization that you support
Within your community:
Seek out and develop partnerships with social enterprises and historically under-utilized businesses; if you are happy with the services, recommend them to others in your network.
Make a donation to a registered local non-profit organization.
If you have a bricks-and-mortar business, invite volunteers and staff from a non-profit organization to set up a table and raise awareness about their recent campaigns. Consider donating a portion of net profits to that organization on that particular day.
Donate the proceeds from a special event (e.g., a workshop held at your business location) to a local non-profit organization
What are some other options that are "easy wins" for socially responsible microentrepreneurs who either want to help generate wealth within their local economy or who want to share their good fortune and prosperity with their people and community? Share your ideas in the comments section.
Endnotes
[1] Friedman Milton, Capitalism and Freedom (Chicago, IL: University of Chicago Press, 1962)
[2] Chambers Susan, Small Business, Big Change: A Microentrepreneur's Guide to Social Responsibility (San Francisco, CA: Night Owls Press, 2012), p. 6
[3] Ibid, p. 9
[4] Ibid, p. 167
[5] Ibid, p. 138
[6] Ibid, p. 153
[7] Ibid, p. 109
[8]Historically underused businesses refer to businesses owned by women and visible minorities that have not historically received equal opportunities as suppliers or business associates. Ibid, p. 154.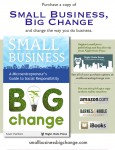 For more ideas on how solopreneurs and microentrepreneurs can get started with their New Year`s resolution to contribute to big changes, check out my book Small Business, Big Change: A MicroEntrepreneur's Guide to Social Responsibility, available as a print-on-demand paperback format from Night Owls Press and Amazon. If you're looking for socially responsible business ideas and big rewards for a small investment, then this how-to guide filled with practical tips and proven strategies is your dream come true. When put into practice, these tips on environmental, social, and economic sustainability used by real entrepreneurs can help you reach your social responsibility goals easily and feasibly. Using a step-by-step approach to implementing socially responsible business practices, say good-bye to overwhelm and hello to increased sustainability and profitability. Do your part by picking up a copy of this book today.
Win a Consult to Learn How to Transform Your Business
Win a full hour of business consulting with Susan Chambers with a purchase of her book, Small Business, Big Change: A Microentrepreneur's Guide to Social Responsibility. Susan will chat with you about your small business or green project over Skype or phone.
Possible discussion topics:
Learning how to start small and still have a big impact.
Setting social-responsibility goals for your business.
Developing bonds with other businesses and organizations in your community.
Reducing your carbon (and other) footprints with strategic green policies.
Finding and working with suppliers and vendors who adopt or share your values.
To be entered in the drawing, buy a copy of Small Business, Big Change. Forward your order receipt to admin@nightowlspress.com by February 14. Put"Change Your Business, Change the World" in the subject line. Purchases must be made between January 9 and February 14 to qualify. Paperback purchases receive 2 entries, e-book purchases get 1 entry. Drawing will take place on February 15 and winners will be notified by e-mail.
Good luck!

February 11, 2017 ¡

Susan ¡

No Comments


Posted in: Social Responsibility