Social Responsibility and Your Customers: Value and Values
Last week we discussed strategies that help microentrepreneurs build their social capital and increase their social impact through participating in projects designed to increase the vibrancy of one's community and contribute to their local economy. Adopting some of these socially responsible strategies is a good way to further look out for your community (social impact) and key stakeholder groups in your business such as your employees, suppliers, business service professionals and business community (your social capital). This week, we are going to look at another group of stakeholders who are crucial to both the long- and short-term economical sustainability of your business: your customers. After all, without customers, there is no viable business.
 
What Do Customers Want?
Increasingly, customers want more than just a product or service that is high quality and good value for their money. They want to know about the company's values regarding the environment, providing fair and safe working conditions and community; how the company's stated values are reflected in its business practices; and whether the walk matches the talk. According to a 2015 Cone Communications study of global consumers and corporate social responsibility, 91% of respondents in this study indicated they expected companies to operate responsibly and do more than just make a profit, and 84% of study participants reported they seek out sustainably produced products whenever possible[1]. It's also worth noting that customers do not take kindly to being deceived about a company's values and S-R practices. Ninety percent of respondents in the Cone Communications 2015 survey of global consumers stated they would boycott a company if it engaged in irresponsible or deceptive business practices[2].
 Customers also value the opportunity to directly engage with companies about their corporate social responsibility. (Presumably, this might also include being asked for feedback on how well companies are doing with their corporate social responsibility commitments and being invited to suggest specific causes or campaigns that are important to customers.) Furthermore, according to the Cone Communications 2015 survey, an increasing proportion of consumers (61%) are using the internet and social media to research and share information about various companies'[3] social responsibility platforms and strategies.
Value, Values, and Your Social Responsibility to Your Customers
What does social responsibility look like in relation to one's customers? At a minimum, it means developing a relationship with customers/clients that goes beyond a merely financial transaction[4]. If you think about your favourite places to shop and why you like them so much, you'll get a sense of why your loyal customers keep coming back and why they recommend you to their friends and professional acquaintances.
Usually customer loyalty is built around not only offering a high quality product or service for good value, but also by cultivating relationships built on mutual respect, trust, a willingness on the part of the entrepreneur to listen and respond to customers, and a willingness to go the extra mile for customers. For example, Joseph Hodgkinson of Foda Catering (one of the microentrepreneurs I interviewed for Small Business, Big Change) likes to share information about great products and stores with his customers[5]. Mia Kalef, a healer and craniosacral therapist, goes the extra mile by making house-calls to clients who are new mothers, and giving clients a bit of a break on her fees if that will help to ensure clients get the treatments they need in order to heal[6]. As a socially responsible facilitator and consultant, the generosity, deep listening, and cultivation of a sense of possibility that Kate Sutherland brings to her clients not only adds immense value to the services she provides, but also often plants the seeds for new purpose-driven communities to spring up and do amazing work[7]
As mentioned above, customers also want to be actively engaged with their favourite businesses' social responsibility strategies, whether through opportunities to provide suggestions directly to an enterprise or through being part of a community with a shared interest or concern. One example of this kind of community building is the Great Sandwich Make: an annual event organized by Kim McMullen, the Chief Creative Renegade at Flipside Creative. The Great Sandwich Make brings together Kim's friends, clients, and business acquaintances (and friends of all these connections) to make hundreds of sandwiches and pack care kits (902 of them in 2016) which are then distributed to street-involved individuals in the downtown east side of Vancouver.
Take Your Mark, Get Set, Engage!
Clearly, socially responsible business practices matter to customers. This should be reassuring news if you have only recently decided that you want your business practices to reflect your socially responsible values. If you are not sure where to start or what you can reasonably manage to do given your current resources, start by doing an inventory of what resources you have available to you and any foreseeable challenges or obstacles to setting and meeting your goal in this area. Next, spend some time reflecting on what you are currently doing or not doing with regard to building relationships with your customers and engaging them in any S-R practices that you currently have in place. To help get you started with your assessment, here is a partial checklist of S-R practices from Chapter 5 of Small Business, Big Change[8]:
I make a point of connecting with customers to find out what's important to them
I go the extra mile for my clients
I regularly collect feedback from my customers and respond to their concerns or suggestions
I regularly hold customer appreciation events
I use social media as one of several strategies to engage customers in my S-R strategies
I hold in-person or web-based events to connect my customers to each other and to facilitate community building around common interests and social causes
I offer matching donations for certain cause marketing campaigns
I solicit customer input to decide on cause marketing campaigns
After you have completed your inventory of the socially responsible practices for customer relations, give yourself a minute to congratulate yourself for any practices that you already have in place. Next, review the list of strategies that you don't yet have in place. Do a quick cost-benefit assessment to narrow the list down to one or two strategies than you can feasibly implement in the next few months, based on your current resources. Decide on your action plan for meeting your goals, and don't forget to let your customers know about your new ventures. If you can't decide which project to start with, start by polling your customers to get some input into which goal(s) are important to them.
Here are a few specific strategies for you to consider implementing:
Design a short customer satisfaction survey for your customers. Either send the surveys electronically or have paper versions available if you have a "bricks-and-mortar" store.
Touch base with your customers through social media platforms on a regular basis
Talk to your customers about your S-R strategies; find out what matters to your customers.
Hold a customer appreciation event within the next three months. It doesn't have to a complex event; it could be as simple as sending a thank you note to your customers.
What socially responsible strategies have you implemented in your business? How well do the strategies work for you? Which ones were the easiest or most enjoyable to put in place? Do you have any practices that you would like to share in the comments section?
Endnotes
[1] Cone Communications, 2015 Cone Communications/Ebiquity Global CSR Study, Cone Communications Research Blog, http://www.conecomm.com/research-blog/2015-cone-communications-ebiquity-global-csr-study, accessed February 4, 2017.
[2] Ibid.
[3] Cone Communications, 2015 Global CSR Infographic, Cone Communications Research Blog, https://static1.squarespace.com/static/56b4a7472b8dde3df5b7013f/t/573b6e6822482eca31fc705a/1463512682037/05192015Global_CSR_Infographic_FIN.png, accessed February 4, 2017.
[4] Chambers Susan, Small Business, Big Change: A Microentrepreneur's Guide to Social Responsibility (San Francisco, CA: Night Owls Press, 2012), p.173.
[5] Chambers Susan, Small Business, Big Change, p. 191.
[6] Ibid, p. 194.
[7] Ibid, pp. 197, 198.
[8] Chambers Susan, Small Business, Big Change, pp. 174-178
For more ideas on how solopreneurs and microentrepreneurs can get started with their New Year`s resolution to contribute to big changes, check out my book Small Business, Big Change: A MicroEntrepreneur's Guide to Social Responsibility, available as a print-on-demand paperback format from Night Owls Press and Amazon. If you're looking for socially responsible business ideas and big rewards for a small investment, then this how-to guide filled with practical tips and proven strategies is your dream come true. When put into practice, these tips on environmental, social, and economic sustainability used by real entrepreneurs can help you reach your social responsibility goals easily and feasibly. Using a step-by-step approach to implementing socially responsible business practices, say good-bye to overwhelm and hello to increased sustainability and profitability. Do your part by picking up a copy of this book today.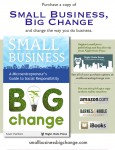 Win a Consult to Learn How to Transform Your Business
Win a full hour of business consulting with Susan Chambers with a purchase of her book, Small Business, Big Change: A Microentrepreneur's Guide to Social Responsibility. Susan will chat with you about your small business or green project over Skype or phone.
Possible discussion topics:
Learning how to start small and still have a big impact.
Setting social-responsibility goals for your business.
Developing bonds with other businesses and organizations in your community.
Reducing your carbon (and other) footprints with strategic green policies.
Finding and working with suppliers and vendors who adopt or share your values.
To be entered in the drawing, buy a copy of Small Business, Big Change. Forward your order receipt to admin@nightowlspress.com by February 14. Put"Change Your Business, Change the World" in the subject line. Purchases must be made between January 9 and February 14 to qualify. Paperback purchases receive 2 entries, e-book purchases get 1 entry. Drawing will take place on February 15 and winners will be notified by e-mail.
Good luck!

February 5, 2017 ¡

Susan ¡

No Comments


Posted in: Social Responsibility