Nurturing Your People: Growing Your Social Capital and Social Impact
Last week, we looked at the environmental sustainability strand of the three Ps of the triple bottom line (Planet, People, Profits/Prosperity). The focus this week is on exploring some small but meaningful and doable strategies that will help you nurture the people in your business life and contribute to your community.
It's easy to become exclusively focused on the environmental strand of being a socially responsible business, but let's not forget that the very term "social responsibility" includes the word "social." So what does it mean when we are talking about the "people" strand of the triple bottom line? It means taking a regenerative approach to growing and sustaining our business' social capital and social impact. It means recognizing the short and long term value of looking out for our stakeholders, the people who support our business: our customers[1], suppliers and vendors, employees; the business professionals who take care of the details that aren't our forte; the people and organizations that are part of our local community and local economy; and last but definitely not least, ourselves. Yes, we need to include ourselves in our network of important people who must be nurtured[2].
 
Social Capital and Social Impact: Is there a difference?
Social capital refers to both the number and quality of relationships you have with customers, suppliers, employees or independent contractors and other business professionals and the number and quality of relationships you already have in place with other businesses and organizations that share your socially responsible vision[3]. Why do the number and quality of these relationships matter? First, if you already have good business relationships based on fairness and respect and you have a good reputation for looking out for others in your network, it will be much easier for you to get your various stakeholders on board with your socially responsible vision. Second, if you already have a network of relationships with other socially responsible entrepreneurs, you know you'll have at least a few kindred spirits who will encourage you on your S-R transformation journey and who might be willing to share their hard earned practical wisdom with you along the way. Furthermore, it is more likely that you'll hear about opportunities to collaborate on projects that strengthen your community and your local economy if you have already made some of those connections. If you haven't yet made these connections in your network, don't despair; I'll be offering some strategies to expand your network.
Whereas social capital refers to your stakeholders and your relationships with them, your social impact is the extent to which your business positively contributes to the social and economic well-being of your community[4]. For example, do you actively participate in "buy local" events, collaborate on projects to improve the vibrancy of your community, or donate time or money to a local organization or community event? Participating in these kinds of events contributes to boosting your local economy and expanding community resources; they have a positive social impact on your community; it also tends to boost your social capital.
If you have a long list of stakeholders to attend to in your immediate business community and you are wondering if, by extension, that will translate into an equally long list of S-R strategies that must be implemented—relax. Remember the emphasis is on taking small, doable steps, so you are only going to implement one or two small-scale strategies for now. Conversely, if you are a solopreneur who conducts almost all of your business over the internet, don't assume that you don't have any social capital or any connections to your local community. You are still part of a local community and you can still have a positive social impact on your local economy. (Or perhaps like Joe Staiano who runs Meaningful Trips, you contribute to the local economies of your tour destinations by partnering with locally owned hotels or tour groups.)
Assessing Your Net(work) worth
Before you can identify some feasible social impact strategies that you would like to implement, you need to stop and evaluate your readiness, resources, and reasons for wanting to increase your positive social impact quotient. Just like last week, we're going to start by doing an inventory of what you are currently doing (or not doing) to nurture your people and your local community. So, collect your business plan, vision and mission statements, financials, list of stakeholders, a notebook and pen (or stylus if you prefer electronic notebooks), and find a quiet place to do your assessment. Start by listing your stakeholders (don't worry about your customers until next week) in one column, then create a column for what you're already doing, and a third column for what strategies you don't have in place yet, or would like to implement. If you follow this format, you'll have a three-column table that looks something like the fictional example below:
Stakeholders
S-R Strategies Already in Place
S-R Strategies Not Yet in Place
Employees/contract workers
-acknowledge workers' value-flexible work schedule

-respect personal time

-pay living wage-provide health benefits

-training/PD opportunities

Suppliers
-pay on time-recommend to others

-don't expect deep discounts

-find out about suppliers' labour practices.
Business Professionals
-host networking event
-develop more contacts in S-R community-start meetup group
Local community
-volunteer for community events
-Partner with local social enterprises
Once you have your table completed, take a moment to congratulate yourself for any strategies you already have in place. (Yes it still counts if the strategy wasn't the result of a deliberate or mindful planning session.) If you don't have anything in place yet, please acknowledge yourself for taking the first steps on a path to a socially responsible business. Now, think about the items you listed in the "Not in place yet" column. Which stakeholder groups have the most "to do" items? Is it because they are "big ticket" items that are still a bit beyond your financial capital at the moment? Is it because they are more complex or more time intensive than you had anticipated? Do the strategies you've listed really fit with your vision and mission, or have some of them been subconsciously shaped by external pressures? Maybe it's a combination of reasons that have conspired to render you overwhelmed and daunted by the prospect of where to start.
Here are some thoughts on how to get out of the train station to start your journey. If you're having difficulties choosing which group of stakeholders you should start with (excluding customers, for now), think about the adage that states "charity begins at home." In this case, if you have employees or independent contractors who are there for you and keep your business running, start by looking out for them first. If your suppliers are the equivalent of your business' life blood, what are some steps you can take to look out for your suppliers and ensure they're treated fairly and with respect?
If you're a solopreneur and your business peers are crucial to the well-being of your company, start with nurturing your network and local business community. Join socially responsible business organizations and volunteer your skills for a project (just be mindful that the volunteer hours don't start eating into the time needed to run and grow your business); be generous about recommending favourite local businesses to your friends and customers (Kate Sutherland, one of the entrepreneurs featured in my book, makes a point of enthusiastically recommending other local businesses and services to people in her network.); and ; reach out to peers to take on collaborative projects that not only generate but also boost the vibrancy of your community.
If it's a clash between a "champagne mind and lemonade pocket" that's holding you back, acknowledge that you won't be able to take on big ticket items right now if your revenue flow just doesn't allow it. Put those items on your "to do later" list of long term, complex goals, and find some low-cost (yet valuable) strategies that you can easily implement and that won't keep you up at night worrying about finances. Yes, it can be disappointing if you'd really like to pay your employees a living wage and full benefits, but perhaps you can offer the gift of time, instead. For some employees, perhaps just having the option of telecommuting once or twice a week would be a real gift, especially if they have a long commute to work. You might not be able to offer health benefits, but maybe you can spring for a gift certificate for a spa day. You can always make a point of regularly letting your employees know how much you value them and their contributions to your business.
 
Small Steps to Creating an Impact
Throughout the post, I've listed some strategies for looking out for your people and making a social impact. Here are a few more strategies from Small Business, Big Change[5] that are low or no cost and easy to implement and track.
Give your employees the gift of time: allow for some flexible work schedules and arrangements (assuming it fits with your business structure).
Pay your employees, contractors, suppliers and business service providers on time.
Be a champion for fair wages and safe working conditions for both your and your suppliers' employees.
Join a business association that advocates both for locally owned, independent businesses and for the local economy.
Start a meetup group for socially responsible microentrepreneurs; find ways to collaborate on projects that help the members and benefit the community.
Share the love and grow the local economy. Spend more of your dollars at your favourite locally owned business and be generous about referring your friends and peers to your favourite locally owned businesses.
What strategies have you tried? What strategies would you like to share with us on the blog? What is one of your favourite locally owned businesses in your community?
Endnotes
1] I'll cover this important group of stakeholders in next week's post.
[2] At first glance, this may sound both egotistical and self-indulgent but as I explain in Chapter 4 of Small Business, Big Change, from a purely pragmatic point of view, you are key human and intellectual asset in your business; failing to take good care of yourself will eventually jeopardize the sustainability of your business—as in the long term functionality of your business (2012, p. 150).
[3] Susan Chambers. Small Business, Big Change: A Microentrepreneur's Guide to Social Responsibility (San Francisco, CA: Night Owls Press, 2012), pp. 62,63.
[4] Ibid, p.107
[5] Ibid, pp 122-123, 159-160.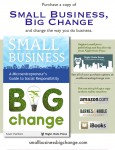 For more ideas on how solopreneurs and microentrepreneurs can get started with their New Year`s resolution to contribute to big changes, check out my book Small Business, Big Change: A MicroEntrepreneur's Guide to Social Responsibility, available as a print-on-demand paperback format from Night Owls Press and Amazon. If you're looking for socially responsible business ideas and big rewards for a small investment, then this how-to guide filled with practical tips and proven strategies is your dream come true. When put into practice, these tips on environmental, social, and economic sustainability used by real entrepreneurs can help you reach your social responsibility goals easily and feasibly. Using a step-by-step approach to implementing socially responsible business practices, say good-bye to overwhelm and hello to increased sustainability and profitability. Do your part by picking up a copy of this book today.
Win a Consult to Learn How to Transform Your Business
Win a full hour of business consulting with Susan Chambers with a purchase of her book, Small Business, Big Change: A Microentrepreneur's Guide to Social Responsibility. Susan will chat with you about your small business or green project over Skype or phone.
Possible discussion topics:
Learning how to start small and still have a big impact.
Setting social-responsibility goals for your business.
Developing bonds with other businesses and organizations in your community.
Reducing your carbon (and other) footprints with strategic green policies.
Finding and working with suppliers and vendors who adopt or share your values.
To be entered in the drawing, buy a copy of Small Business, Big Change. Forward your order receipt to admin@nightowlspress.com by February 14. Put"Change Your Business, Change the World" in the subject line. Purchases must be made between January 9 and February 14 to qualify. Paperback purchases receive 2 entries, e-book purchases get 1 entry. Drawing will take place on February 15 and winners will be notified by e-mail.
Good luck!
[

January 27, 2017 ¡

Susan ¡

No Comments


Posted in: Social Responsibility